WOMEN'S STORIES
a new skill, a better future
Meena
"I am 18 years old and never had an education. I never got to go to school because my parents were very poor farmers. Both my parents died when I was a young so I had to live with relatives but my treatment was not good. I have been working on a construction site, which is very hard work for women but pays for my livelihood. It allows me to pay the rent on my single room in a building and to buy my food.
Something really bad happened to me and a lady told me about The Didi Foundation. I went there and they were so kind to me. They offered to help me and purchased another sewing machine and squashed me into the beginners sewing class. I was provided with everything I needed and an opportunity to learn sewing skills. I enjoy this so much and I am so excited that Didi Foundation has offered me the advanced sewing course. I can now dream of opening my own tailoring centre. So now I go to the construction site and work from early morning and go to Didi Headquarters for my three hour training and then go back to the construction site. My sewing teacher, Sadhuram is very kind to me and gives me extra help and so does the manager Jyoti who makes sure I am good and caring for myself. I wish to express my sincere gratitude to Didi Foundation for helping me and giving me a future."
Nitu
"My hometown is in Ramechhap but now live here in Kadhagari. I am now 30 years old and am lucky to receive an education to Grade 10. I was 16 years of age when I got married to my husband and 18 when my daughter was born. My husband has his own business and are lucky to live in our own house.
I came to Didi Foundation because I wished to learn sewing skills that can be income generating and make me independent. I am excited to learn the cutting technique and we have a very good teacher Saduram and I am learning many new skills. I am grateful for this opportunity."
Ashmita
"I am 30 years old and had no formal education and was married at the age of 23. I have two daughters and my eldest is 6 years old.
My husband is a public transport driver and life is hard and our economic situation is not good and we live in one rented room with shared bathroom.
As I did not get a chance to obtain a formal education, I am feeling somewhat difficulty in learning the sewing skills at Didi Headquarters. I do not want to stay passive because I did not have an education, I want to use my full energy to stand on my own by learning these skills. I want to learn properly and then be able to stand on my own by getting these skills. I am grateful to Didi Foundation for this golden chance."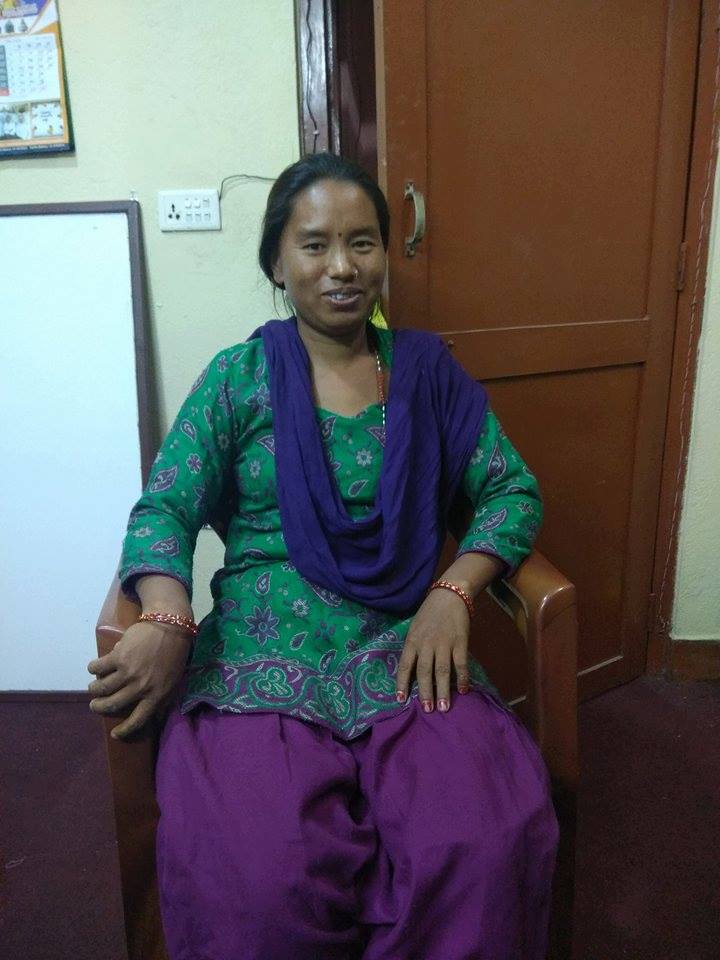 Shanti
"Sadly, due to my family situation and belief, I was only able to study up to Grade 5 then I was married at 17 years of age. I was just 18 years old when I gave birth to my daughter, who is now 14.
I was so excited when Didi Foundation accepted me into sewing course. I want to get involved in this field and economically, be able to stand on my own feet. My family and I are extremely happy that I have the opportunity to attend this course at Didi Headquarters. I've got the aim to do something greater and bigger with these sewing skills. I am ready for advanced sewing course and I desperately want to learn this skill. Thanks Didi Foundation."
Kabita
"I am 28 years old and I am from Dolakha. I was married at 22 years old and have two daughters. It is to my sadness, that I have had no formal education but I can read and write. My husband is a taxi driver and my family lives in one rented room with shared bathroom. Because I have had no formal education, I am finding it so hard to learn sewing skills.
I hope time favours me and I can do good in this training. I am happy to learn more and more skills. I am so grateful that Didi Foundation accepted me into the course as it provides me with future self-employment in the future."