WOMEN'S CENTRE

DIDI HEAD QUARTERS
The rapidly growing Didi Head Quarters was established in 2013 with the purchase of four sewing machines. The centre now attracts up to 100 women daily who attend life-skill courses which are designed to empower women and assist them in developing sustainable and self-funding life styles. Women are selected based on a need or hardship. Women who have financial support attend courses and pay a small fee.
All courses run for six days a week, except for government and religious holidays.
Didi Nepal has at times partnered with the Nepalese Government to run specific courses previously not available in the community. These courses have included: Traditional Weaving, Beauticians Course, Women's Empowerment program.
Our vision is to empower women so that they can create sustainable livelyhoods, seek further education courses or employment.
The Didi Foundation Nepal-Australia's policy is that no project is commenced unless it  can be sustained with a tutor for two years.
Sewing School
From small beginnings we know have 10 machines and the sewing course runs for six months. We have employed a highly accomplished tailor who instructs the girls on all aspects of sewing.
This includes pattern making, basic use of the treadle machine and maintenance and skills using an overlocker.  At the end of the course women sit a written accomplishment exam and are able to make a traditional kurta garment.  A kurta is a brightly coloured long shirt with pants underneath.
On completion of the course women can register with a government tailoring course, work in a tailoring shop or start a small home business.
Latest statistics revealed that 90% of women completing the advanced course gained employment or started their own sewing busines.
Computer Course
The establishment  of a computer lab in October, 2014 was due to funding from Northlakes Toukley Rotary Club plus a grant from The Pink Umberella Foundation. In 2015 further funding from Northlakes Toukley Rotary District 9685 enabled a solar power system so that women could attend classes regardless of power outages. In October, 2015 we installed wi-fi so that women can learn to use modern technologies such as Facebook and the internet.
Underprivileged women and women from the lowest cast are encouraged to register for this class.  Students learn to establish a filing system, use word, spread sheets and the internet. They develop skills in saving photos from a camera or internet and putting them into a document.
From this course women can enrol in a beginner's government course, do basic office work in a business and talk technology with others and their children.
Literacy and Numeracy classes
This very successful course is taught by Jyoti Dahl. Due to socio-economic barriers women who attend this course have never learnt to read and write and regardless of age have a desire to master basic Nepali and English. The outcomes are astounding.
"I can now read the names on the buses' …..Bimala
"I can now teach my grandchildren the alphabet" …. Ama
"Now that I can add numbers I have started selling vegetables on the side of the road"
Read our beautiful stories of success on our Facebook page.
The Didi Foundation believes every women has the write to be literate.
Secret Women's Business - Reusable Sanitary Kits
This program was established in October, 2013 through a Pink Umbrella Foundation Grant and then funded by the Re-Build Nepal campaign. This program offers employment to sewing graduates to experience the manufacturing world, develop sales skills and book keeping.
These sanitary kits consist of:
A bag to hold the kit
Sanitary shield
5 specially made towels
Plastic clip lock bag
User instructions
In conjunction with handing out these kits, women are given reproductive system education and hygiene lessons. The kits are distributed to underprivileged school girls, orphans and women living in difficult circumstances.
In Nepal there is a shroud of superstition that still surrounds menstruation. 'Goths', (outdoor hut or dog house) were outlawed in Nepal in1995 but, still exist in remote regions. These huts are where a menstruating women is sent so that they do not 'spoil' the house or land. In these huts they are often prone to vermin, snakes and rape. Educated women are still not welcome in the kitchen when menstruating.
Through the distribution of this kits and the education program communities are slowly developing an understanding of natural body functions.
Women's Empowerment
Didi Foundation loves to plant the seeds for dreams to grow. We do this by creating opportunities for women to have experiences not previously accessible. Through education these women become  empowered which can lead to sustainability and an independent secure future.
In some cases we have partnered with Nepali government agencies and have implemented:
Women's Empowerment Course
Beauticians course
Traditional Weaving course
Employment application skills
Six month computer certificate course
Soft toy and cushion making 
Self-funding photocopy/print shop in a village in Sindhuli for three Year 12 female graduates from a deaf school who are now operating a self sustaining business
Established a group of women in a very remote village with sewing machines to manufacture local dress
Developed a business manufacturing carry bags operated out of Didi Headquarters
Didi Foundation has also supported disadvantaged women to establish home industries
We are seeking future funding to implement successful social enterprise and micro-loans for women to be empowered in their own communities.
Maternal and Child Health
This program is spear-headed by Laxmi Koirala who implements  maternal and child health clinics for underprivileged women and children together with communities suffering hardship. Our health centre department offers:
Outreach education programs that focus on reproductive health education for local women and workshops for professionals
Health clinics to those who have undergone the education program where free examinations and testing is undertaken
Prolapse education and clinical assistance
Teenage sex education programs
Dental programs for school children
Rebuild Nepal
REBUILD NEPAL
The 2015 earthquake which devastated Nepal also impacted on our young charity. On that day our focus, responsibilities and accountability changed. Our baby charity became an adult overnight. The financial generosity of our supporters and their desire to help Nepal overwhelmed us. In the first initial weeks our Didi Nepal team went above and beyond in delivering aid and although suffering their own personal grief and hardships, worked tirelessly assisting communities and villages.
Their immediate aid to remote areas included:
Food Donations
Tarpaulins
Iron roof sheeting
Medical clinics with free medicines
Supplied Re-usable Sanitary Kits for women and young girls
CONTINUED SUPPORT FOR EARTHQUAKE VICTIMS
The Didi Foundation, through generous donors has continued supporting persons suffering hardship by:
Building temporary iron homes for a displaced village
Implementing a clean water and sanitation program for that community
Supplied iron roof for a school
Carried out medical clinics in tent cities in Kathmandu
Care packages to women and children in tent cities
Delivery of Re-usable Sanitary Kits for women and young girls
Winter blankets to cold regions
Re-built a school in Ramechhap
Shree Jana Bijaya Primary School
SHREE JANA BIJAYA PRIMARY SCHOOL
This Outreach Program is a  major project for the DIDI FOUNDATION – Sunarpani/Ramechhap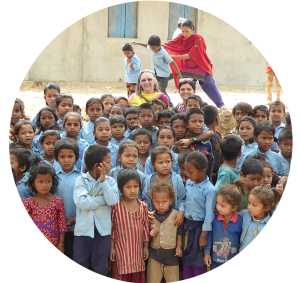 Through generous Australia donors, the Didi Foundation Aust/Nepal, re-built this severely damaged and condemned school affected by the earthquake. The school in the Ramechhap district is in a very disadvantaged community where the majority of homes were destroyed due to the earthquake in 2015.
The community is made up of the 'Untouchable Caste'
This community did not receive any national or international aid
The village consists of around 86 families who have lost their homes due to earthquake damage
The village is made up of subsistence farmers who can only grow crops for two months
The school caters for 110 primary school children
Didi Australia and Nepal worked within the Government guide lines and successfully
re-built the school and has given on-going support to the educational
needs of the school and the mothers of the community.
The school now has:
renovated class rooms and functioning school
a computer lab and computer teacher
educational materials for two years
Re-furbished kindergarten room with all possible resources
School back packs for all students.
Mothers of these children have been given 'special care packages' on every visit
Didi Australia /Nepal looks forward to continuing the support of this school and community.