SHREE JANA BIJAYA PRIMARY SCHOOL
This Outreach Program is a  major project for the DIDI FOUNDATION – Sunarpani/Ramechhap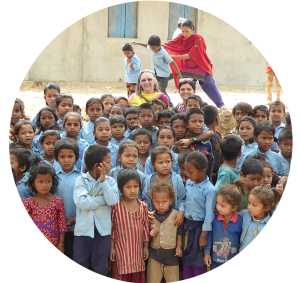 Through generous Australia donors, the Didi Foundation Aust/Nepal, re-built this severly damaged and condemned school affected by the earthquake. The school in the Ramechhap district is in a very disadvantaged community where the majority of homes were destroyed due to the earthquake in 2015.
This school caters for 110 primary school children
The community was made up of the 'Untouchable Caste'
The village is made up of subsistent farmers who can only grow two months  food
This community did not received any national or international aid
The village consists of around 86 families who have lost their home due to earthquake
Didi Australia and Nepal worked within the Government guide lines and successfully
re-built the school and has offered and given on- going support to the educational
needs of the school and the mothers of the community.
The school now has:
renovated class rooms and functioning school
a computer lab and computer teacher
educational materials for two years
Re-furbished kindergarten room with all possible resources
School back packs for all students.
Mothers of these children have been given 'special care packages' on every visit
Didi Australia /Nepal, looks forward to continued with the support of this school and community.
REBUILD NEPAL
The 2015 earthquake which devastated Nepal also impacted on our young charity. On that day our focus, responsibilities and accountability changed. Our baby charity became an adult overnight. The financial generosity of our supporters and their desire to help Nepal overwhelmed us. In the first initial weeks our  Didi Nepal team went above and beyond in delivering aid and although suffering their own personal grief and hardships, worked tirelessly assisting communities and villages.
There immediate aid to remote areas included:
Food Donations
Tarpaulins
Iron
Medical clinics with free medicines
Supplied Re-usable Sanitary Kits for women and young ladies
CONTINUED SUPPORT FOR EARTHQUAKE VICTIMS
The Didi Foundation, through generous donors has continued supporting persons suffering hardship by:
Building a temporary iron homes for a displaced village
Implementing a clean water and sanitation program for that community
Supplied a roof for a school
Carried out medical clinics in tent cities in Kathmandu
Care packages to women and children in tent cities
Delivery of Re-usable Sanitary Kits for women and young ladies
Winter blankets to cold regions
Re-built a school in Ramechhap
DONATE NOW
Join us and help create better futures.
100% of your donations go towards creating and developing sustainable futures in Nepal.
DONATE NOW