DIDI AID TOURS
experience Nepal - expand your horizons
DIDI AID TOURS
EXPAND YOUR HORIZONS
Didi Foundation Nepal offers rewarding experiences where you can be immersed in Nepali culture, become part of a community and empower people through skills development and education.
As one person you can make a huge difference to lives of an individual person or a community by using your skills, expertise or just by assisting with language practice.
Take the trip of a lifetime, step into another world and experience amazing Kathmandu. Meet the locals, visit the Didi projects and get involved in the work we do to assist the people of Nepal.
Join the Didi Mobeel team and take a walk on the wild side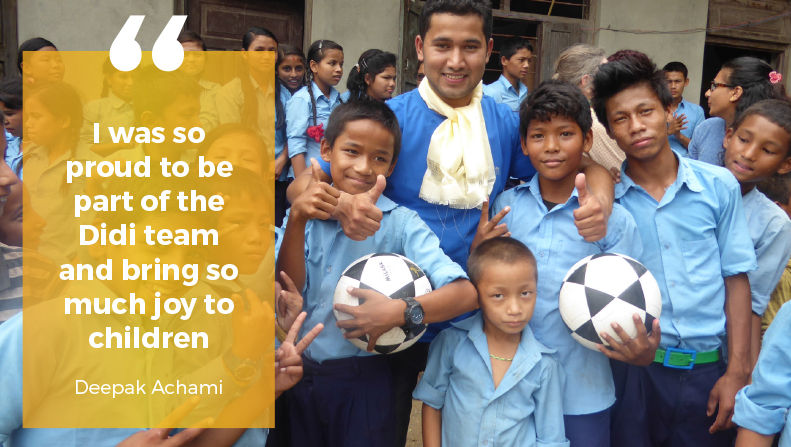 WHAT'S INCLUDED
When you join the Didi Mobeel on a Didi Aid Tour in Kathmandu your tour generally includes:
Meet and greet in Kathmandu
Basic culture and language lessons
Sight-seeing tours of Kathmandu
Visit Didi Headquarters in Kathmandu and see the women in action
Re-Build Nepal…visit post Earthquake projects including the remote school we re-built (weather permitting)
Visit the Deaf Boarding School and feel your heart explode while having a party with the kids
Visit Chitwan National Park for some R&R
Head to Pokhara for a cappuccino and see the sun rise over the Annapurna mountain range
Back to Kathmandu for heaps of shopping and final farewells
Cost is USD $1,000
Groups can be catered for
Tours run at specific times of the year and you will need to be quick to book as spaces are limited